Joe Hanley
Founder & President
Make An Appointment With Joe: (312) 345-5440
Joe began his professional career as an infantry officer in the US Marine Corps, where he served in combat in Operation Desert Storm and won several personal decorations. After graduating from law school, he managed a housing shelter, working on issues related to homeless individuals and families.
He then founded several successful entrepreneurial ventures in insurance, technology and education. His own experience and frustrations settling an IRS tax debt in the mid-90's was a prime motivator in forming The Tax Defenders in 2002.
Joe lives with his wife and son in the western suburbs. He enjoys running, reading, watching his son ice skate and swim and building LEGO trains for him.
Mr. Hanley, Founder and President of The Tax Defenders, directs the client development and growth of the firm.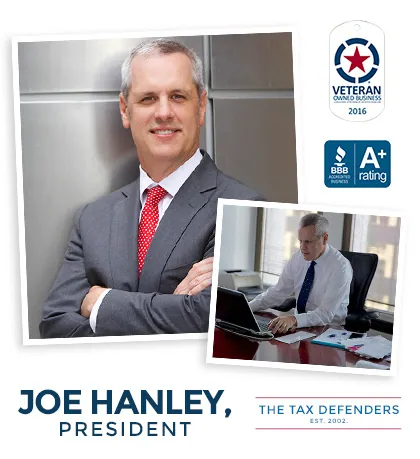 Academic Background:
B.A. Illinois Institute of Technology
J.D. Notre Dame Law School
Volunteer Work/Community Involvement:
Charis Ministries
Marines for Life
Professional Memberships/Associations:
Former Employers:
United States Marine Corps
South Bend Center for the Homeless
Reynolds and Baker
Awards/Achievements:
Combat Action Ribbon
Robert Horner Leadership Grant
Make An Appointment With Joe: (312) 345-5440